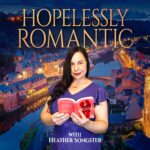 It's time for holiday cookies, cocoa, and crime? Heather takes one more look at His Christmas Guardian, and talks about her surprising new hyperfixation!
You can follow Heather's reading journey on Goodreads at https://www.goodreads.com/user/show/135804934-heather-songster .
If you like the show, please leave us a review on Apple Podcasts! It will help us continue to bring you more episodes.
If you want to say hi or suggest a read, you can email us at contact@hopelesslyromanticpodcast.com
Thanks for listening!