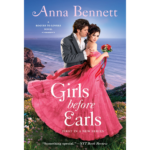 It's time to throw back to Regency England once again, where we meet the buttoned up headmistress of Bellhaven Bay, and her somewhat charming suitor! Even Heather might not be able to resist his charms. Well, maybe not, but Romance Heroes can dream.
You can check out our twitter at @ReadWithHeather, and follow Heather's reading journey on Goodreads at https://www.goodreads.com/user/show/135804934-heather-songster .
If you like the show, please leave us a review on Apple Podcasts! It will help us continue to bring you more episodes.
If you want to say hi or suggest a read, you can email us at contact@hopelesslyromanticpodcast.com
Thanks for listening!