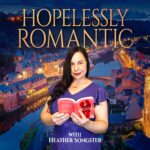 Heather examines why she was so apathetic with last week's novel, and it might have something to do with the lack of "erotic" in all these supposedly erotic romance novels. We take a look at why that might be, from the vanilla Harlequin line up to North American sexual education. Word of Warning! We say the word butt. …and others.
You can check out our twitter at @ReadWithHeather, and follow Heather's reading journey on Goodreads at https://www.goodreads.com/user/show/135804934-heather-songster .
If you like the show, please leave us a review on Apple Podcasts! It will help us continue to bring you more episodes.
If you want to say hi or suggest a read, you can email us at contact@hopelesslyromanticpodcast.com
Thanks for listening!