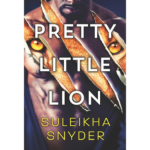 Today's dive takes us to a world of Urban Fantasy and maaaaabye speculative fiction? Join Heather as she follows the story of two agents accidentally getting their lions crossed and fight to save the world while trying to keep their pants on.
You can check out our twitter at @ReadWithHeather, and follow Heather's reading journey on Goodreads at https://www.goodreads.com/user/show/135804934-heather-songster .
If you like the show, please leave us a review on Apple Podcasts! It will help us continue to bring you more episodes.
If you want to say hi or suggest a read, you can email us at contact@hopelesslyromanticpodcast.com
Thanks for listening!