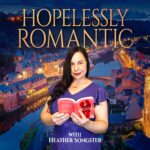 Heather returns to gush some more about A Duke at the Door! I mean, did we expect anything else? And it's not just about the one novel, it's about all three from our favorite Regency Shifter Romance Series! And what Heather read this week is completely out of this world! She also makes no apologies for the terrible jokes.
You can check out our twitter at @ReadWithHeather, and follow Heather's reading journey on Goodreads at https://www.goodreads.com/user/show/135804934-heather-songster .
If you like the show, please leave us a review on Apple Podcasts! It will help us continue to bring you more episodes.
If you want to say hi or suggest a read, you can email us at contact@hopelesslyromanticpodcast.com
Thanks for listening!