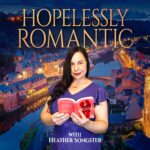 Today's episode will take a moment to discuss real world events, particularly surrounding the Supreme Court draft leak surrounding the Roe v. Wade reversal. We will also take a little time to talk about last weeks adventure in paradise, and find out what Heather's been reading, and playing, this week.
Individuals needed support and care concerning reproductive health can find information at
https://www.plannedparenthood.org
https://www.reddit.com/r/auntienetwork/
and
https://aidaccess.org/en/
You can check out our twitter at @ReadWithHeather, and follow Heather's reading journey on Goodreads at https://www.goodreads.com/user/show/135804934-heather-songster .
If you like the show, please leave us a review on Apple Podcasts! It will help us continue to bring you more episodes.
If you want to say hi or suggest a read, you can email us at contact@hopelesslyromanticpodcast.com
Thanks for listening!