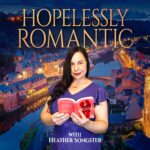 Time to take one last look at what should have been, in Heather's opinion, something else entirely with The Princess Plan! Join her as she just can't help herself with yet another rant about Harlequin Covers, and hear her go on and on way longer than she expected about what she read this week!
You can check out our twitter at @ReadWithHeather, and follow Heather's reading journey on Goodreads at https://www.goodreads.com/user/show/135804934-heather-songster .
If you like the show, please leave us a review on Apple Podcasts! It will help us continue to bring you more episodes.
If you want to say hi or suggest a read, you can email us at contact@hopelesslyromanticpodcast.com
Thanks for listening!